Jimmy Anderson fireworks help England thrash India in second Test

England v India 2018 Jimmy Anderson fireworks help England thrash India in second Test • India 107 & 130, England 396-7dec
• Anderson takes four for 23 in second innings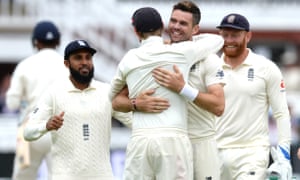 Stuart Broad is a bystander no more. As the competition for the bowling slots in the England side hots up Broad made his first major intervention of the series, a reminder why he, too, demands to be inked into the best XI. As a consequence the two teams have an extra day of rest before the Trent Bridge T est starts on Saturday, during which the home side can luxuriate while India agonise.
England's victory was overwhelming. They won by an innings and 159 runs and Virat Kohli's team now look as battered as Alastair Cook's ever were in alien Indian conditions in 2016. Two up with three to play seldom loses.
Broad will be relieved. He has always been a streaky bowler capable of deciding a match when the force is suddenly with him, but this has not happened so frequently in the past 18 months.
But here the force returned under a blanket of cloud as he raced in from the Pavilion end. In an eight-over spell he took four wickets, including that of Kohli, a scalp that should count double in this series. Something clicked.
The rhythm returned and the ball sometimes swung into the right-handers; moreover, it bounced off the track with extra venom. Give the English bowlers a Duke ball and they bowl like princes, confident that they will find enough movement to torment the best.
So this victory brings a much needed smile to those involved with English cricket. The proceedings in Bristol are an obvious hindrance to England's plans yet Trevor Bayliss's pleas for someone to take on additional responsibilities in Ben Stokes' absence have been heeded. Chris Woakes, Broad, Sam Curran and the peerless Jimmy Anderson, who finished with nine wickets in the match and who also became the first man to take 100 Test wickets at Lord's, have exploited the helpful conditions superbly. In the entire match England had to bowl only 82.2 overs, so Stokes was not missed there. Moreover the idea of rotating the fast bowlers can be shelved for a little longer and there will certainly be no volunteers offering to stand down at Trent Bridge. There seem to be some cheap Test wickets around â€" and Woakes struck his maiden century on Saturday.
The Warwickshire all-rounder was allowed to add to his tally on Sunday morning. In just over half an hour 39 more runs were added by England but when Curran, on 40, sliced a catch down to third man, Joe Root, conscious of a dodgy weather forecast, brought the innings to a close with his side leading by 289 runs and Woakes unbeaten on 137.
Once the rain stayed away for longer than anticipated there was a grim inevitability about India's demise. Kohli had not taken to the field because of back trouble which meant that he could not fill his usual slot at No 4, so quickly did the Indian openers depart.
Murali Vijay suffered the indignity of a pair though fortunately there is not yet a board in the Lord's dressing rooms to remind future generations of that dubious landmark. Within another half hour KL Rahul was lbw to Anderson and the procession had begun.
Cheteshwar Pujara and Ajinkya Rahane lingered for a while but then Broad made his mark when he switched to the Pavilion end. Soon Rahane edged and Keaton Jennings, at third slip, accepted a sharp chance. Pujar a soldiered on grittily for a while without ever convincing until Broad produced devilish inswing which had the ball passing between bat and pad before shattering the stumps.
Kohli, meanwhile, was obviously ill at ease, requiring the attention of the Indian physio, who had a busy afternoon â€" the sprinting physio was frequently summoned as batsmen were hit on the fingers.
On 17 England appealed for a catch behind after Kohli had swung at a short ball from Broad and they sought a review, which concluded that there had been no contact. The next delivery from Broad darted into the India captain and ended up in the safe hands of Jennings at short leg. Up went the umpire's finger and this time Kohli reviewed but a little touch on the glove was revealed and off he went.
Now Broad was in the zone. In he rushed again and the ball thudded into the left pad of Dinesh Karthik. Broad's appeal was more a celebration and Aleem Dar's finger appeared again. This was Kart hik's second golden duck of the series and his plight reflects the current despair of the Indian batsmen against English bowlers on top of their game.
Broad monitors his progress as an England wicket-taker â€" like a previous Nottinghamshire stalwart, Richard Hadlee, he sometimes uses figures as a motivation â€" so he will know that he has now passed two South African giants, Shaun Pollock and Dale Steyn in the list of Test wicket-takers.
Hardik Pandya and Ravi Ashwin added a skittish 55 in between receiving blows to the hand, which compelled them to think hard over what was the best way to punch gloves in between overs. But Woakes and Anderson soon mopped up on their return.
Woakes reviewed successfully to have Pandya lbw and he took the last wicket of Ishant Sharma, neatly caught by Ollie Pope at leg slip. It was hard to quarrel with Woakes being given the man of the match award despite Anderson's phenomenal performance which gave him match figures of nine for 43 from the 25.2 overs he bowled in the game. He will still be fresh when Saturday comes.
England beat India in second Test to take 2-0 series lead â€" as it happened Read more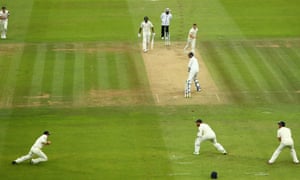 Topics
England cricket team
India cricket team
Cricket
match reports
Share on Facebook
Share on Twitter
Share via Email
Share on LinkedIn
Sha re on Pinterest
Share on Google+
Share on WhatsApp
Share on Messenger
Source:
Google News India
|
Netizen 24 India