India have invested too much power in their captain Virat Kohli

England v India 2018 India have invested too much power in their captain Virat Kohli
At Lord's Kohli looked like a man who does not think his teammates can get things done unless he tells them how to do it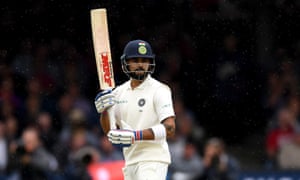 The second Test was all of 37 balls old when Virat Kohli found himself back in the middle, batting again. The series has had five days of play and it feels as though Kohli has been a central figure on every one of them, centre stage for every hour but the odd one when his teammates have managed a stand long enough to allow him some rest.
High five for Jimmy Anderson as England's attack cuts through India Read more
A lot has changed in the past six days, both the teams and the weather too, but this has not. Kohli's is still the key wicket and India's fate is so closely bound to his own that all three innings they have played so far have turned on his dismissal.
When it came at Lord's, caught at slip off Chris Woakes just after 6.30pm, the match seemed to shift irrevocably with it. There are countless thousands of cricketers in India. They have a larger talent pool to pick from than any other nation. And yet the way they are set up leaves an awful lot resting on just one of them. Kohli seems to like it that way. You can see his touch in almost every last thing the team do. Their coach, Ravi Shastri, seems almost ornamental. During their morning huddles he stands mute while Kohli issues the orders for the day.
In the first Test Kohli made 200 runs on his own, the rest of the side as many again between them. And it was still not enough. When Kohli was out lbw to Ben Stokes on Saturday morning, India still needed 53. And since he was not going to be able to get them himself, he decided he had to leave his teammates a detailed set of instructions on exactly how they should go about winning the match. He stopped once to talk to Hardik Pandya and then again to address Mohammed Shami as he crossed over the boundary rope.
Kohli looked, in that moment, like a man who did not think his teammates could get it done unless he told them how to do it. And of course, even then it did not help. Shami got out seconds later and Pandya fell soon after. Here at Lord's his batsmen let him down all over again. Murali Vijay draped his bat across the line of an away-swinger and KL Rahul was caught behind. So here was Kohli, batting for the match all over again, with Cheteshwar Pujara at the other end.
When a burst of drizzle swept across the ground, the umpires, Aleem Dar and Marais Erasmus, decided to send everyone in to the pavilion. But as Kohli and Pujara crossed the rope, the rain stopped and the sun peeped out from behind a cloud. It was only ever going to be a brief reprieve because there was a wave of thick black rain clouds coming up from behind the pavilion. But still Erasmus and Dar ordered everyone to start playing again.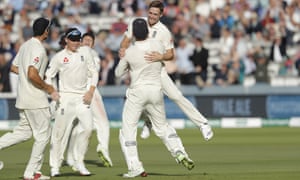 Pujara left the next ball alone but played the one after down to the off side. He took two quick steps forward and looked up to see what Kohli wanted to do. He was deferring to his captain, offering him the decision on whether or not to run. Kohli, always keen to steal singles, answered him with a quick sprint, four long strides down the pitch. Pujara stuck his head down and started running hard too. And then Kohli changed his mind when he saw Ollie Pope closing in on the ball from his position at fifth slip.
Jimmy Anderson, the Elvis of Lord's, sparkles between downpours Read more
In that split second Kohli calculated there was a good chance someone was going to be out and decided it was not going to be him. So he turned and ran back to his ground. Pujara kept coming. And so did Pope, who had time to walk the ball right up to the stumps to make sure of the w icket. It was a ruthless bit of batting from Kohli. He called the run and cancelled it when he realised the risk. He decided he was too valuable to the team. So Pujara paid for Kohli's wicket with his own. Moments later the rains came again and the players made a madcap sprint from the pitch while the groundstaff hurried the covers on.
Kohli has been involved in five run-outs in Test cricket but has been dismissed only once. He is not a man who gives up his wicket for the sake of a teammate. In the end it turned out that Kohli's decision bought India only another handful of runs. But it all added to this impression that Kohli is a captain who seems to think that, if a thing has to be done, he had best do it himself. Which seems to mean that, if he does not, it does not get done at all. Brilliant as he is, it feels as if India have invested too much power, and too much hope, in just one man.
Topics
Virat Kohli
India cricket team
England cricket team
Cricket
comment
Share on Facebook
Share on Twitter
Share via Email
Share on LinkedIn
Share on Pinterest
Share on Google+
Share on WhatsApp
Share on Messenger
Source:
Google News India
|
Netizen 24 India