High five for Jimmy Anderson as England's attack cuts through India

England v India 2018 High five for Jimmy Anderson as England's attack cuts through India
• Second Test day two: India 107 v England
• Anderson takes five for 20 as Woakes dismisses Kohli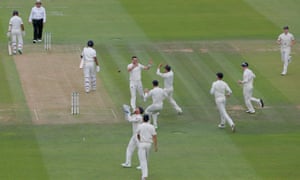 It was an idyllic day for England with little play but lots of progress. Seldom have they made such significant inroads with such minimal effort. Despite the regular intrusions of heavy showers England took a stranglehold on the game after puttin g India in to bat. For everyone else â€" and the Indian side in particular â€" it was a day of torment, for the spectators so frequently sheltering under the stands or the batsmen surrendering their wickets against the devious Duke ball.
Jimmy Anderson, the Elvis of Lord's, sparkles between downpours Read more
By the end of it India were on the rack, 107 all out. Whenever the rain stopped, the ball swung again; Jimmy Anderson was on song and finished with five for 20, having received significant assistance from Chris Woakes, who dismissed Virat Kohli, his recent captain at Royal Challengers Bangalore. At the end old cliches were resurfacing fast: "You can't win a match in a session or two but you can surely lose one."
It was a very good toss for Joe Root to win, not so much because of the playing surface but due to the weather forecast, which correctly predicted frequent interruptions in play, which are much more taxing for batsmen than for bowle rs. So Root did not hesitate before opting to field.
It could not have been more taxing for the tourists as the sun took a break. Anderson in his first over propelled a lovely away swinger that started life on middle and leg stump. Murali Vijay looked to flick through mid-wicket as if this was mid-afternoon on a sunbaked Chennai afternoon. The ball swung past a crooked bat and clipped off stump.
So it was evident that the ball was swinging from the start and this caused alarms against what is now a right-handed opening pair since Shikhar Dhawan, so flighty at Edgbaston, had been dropped and replaced by Cheteshwar Pujara. The prospects of survival seemed greater for batsmen at Stuart Broad's end, which was confirmed by the departure of KL Rahul, who feathered another Anderson away-swinger to Jonny Bairstow before more rain intervened.
Out they all came after lunch with another dirty dark cloud hovering overhead, a nasty time to bat since it was obvious that pla y would not last long. Pujara, stuck at Anderson's end, was obviously on edge and given no respite. The rain started to return, then relented briefly so that players beginning to leave the field were recalled by the umpires.
Two balls later Pujara dabbed the ball on the off-side and set off down the pitch staring at his captain. Initially Kohli responded positively but then thought better of the proposed single and returned home. Pujara, who is renowned as a dodgy runner â€" he was run out twice in India's match at Centurion in January â€" kept going. Ollie Pope, having picked the ball up after running round from the gully area, sensibly kept it in his hands and trotted up to remove the bails. Then the rain returned and everyone headed for the pavilion with the two Indian batsmen declining to embark on any polite conversation on the way.
After more rain which had been ma gically soaked up, the sun came out and Woakes, though tormented by a willing but unreliable slip cordon, enjoyed himself. He replaced Broad at the Nursery End and found far more movement away from the bat. In his first over he passed the outside edge twice and then he found it when Kohli was on strike. In fact the India captain was trying to remove his bat from the ball's flightpath but he did so too late and a catch skewed to the left of Jos Buttler, England's latest second slip. The ball flicked Buttler's fingers before heading for the boundary.
There was no time for Buttler to consider the grave implications of this drop. The next delivery from Woakes was fuller still and Kohli sensed runs on the leg-side; but the ball swung again, found the edge and this time Buttler, moving to his right, took the catch.
There was a repeat performance when Hardik Pandya was on strike. Buttler dropped an attempted drive but accepted the next ball, also edged, safely into his hands. The catches were coming with the same frequency as in those early morning catching sessions.
Now Sam Curran entered the fray. He had the wit to bowl full because he sensed the ball was swinging; hence he leaked a few runs but he also found the inside edge of Dinesh Karthik's bat and the ball ricocheted on to the stumps. Only Ravi Ashwin offered any resistance of a belligerent nature, until he became Broad's solitary victim. Anderson returned at the Nursery End for a change and a mopping up operation that was as efficient and swift as the one earlier witnessed from the groundstaff.
The sun is expected to reappear on a more permanent basis on Saturday so batting should be easier against India's slender pace attack â€" they opted to swop Yadavs replacing Umesh with left arm spinner Kuldeep on a day when everything went horribly wrong for them.
Topics
Jimmy Anderson
England cricket team
India cricket team
Cricket
match reports
Share on Facebook
Share on Twitter
Share via Email
Share on LinkedIn
Share on Pinterest
Share on Google+
Share on WhatsApp
Share on Messenger
Source:
Google News India
|
Netizen 24 India