India rape: 17 men accused of multiple attacks on 11-year-old girl in Chennai

India India India rape: 17 men accused of multiple attacks on 11-year-old girl in Chennai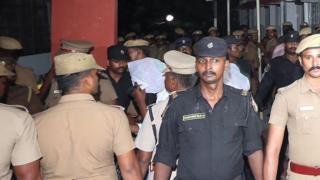 Seventeen men have been charged in India with the gang-rape of an 11-year-old girl in the city of Chennai.
Police say the girl was raped repeatedly since the start of the year. They say the main perpetrator was a lift operator in her apartment block.
He is alleged to have drugged the girl and invited other men to assault her. Police say more arrests are likely.
India is experiencing renewed public outrage over the number of violent sexual assaults in the country.
How a child rape became a religious flashpoint for India
Why India's rape crisis shows no signs of abating
Why did India wake up so late to a child rape and murder?
How life has changed for Delhi rape victim's family
On Tuesday a court in Chennai charged the 17 men - who include security guards, electricians and plumbers - with rape of a minor and ordered them held in custody until 31 July.
The case has sparked widespread revulsion and some of the accused were attacked by a group of lawyers during the court appearance, the Hindustan Times reported.
Video shared on social media showed a man being dragged from a staircase and beaten up as police struggled to restore order.
Speaking to journalists at the Madras High Court, advocate association president Mohana Krishnan said no lawyer was willing to appear on behalf of the accused.
The men were arrested after the girl's family made a complaint at an all-women police station in the northern suburb of Vepery, the Hindustan Times said.
A police official said the girl had identified all the accused. At least four of them have already confessed, the official added.
The victim has been referred to a government hospital for medical examination.
Top Stories
Trump lashes out at Putin summit 'haters'
The US president blames "Trump Derangement Syndrome" for criticism of the Helsinki summit.
18 July 2018
Thai boys relive 'moment of miracle'
18 July 2018
Salvagers 'find sunken Russian warship'
18 July 2018
Features
Trump WW3 claim leaves 'tiny' Montenegro shocked
My life trapped in an American city
Heatwave reveals hidden UK landscape s
US boss gives car to 20-mile walk worker
Did Qatar pay the world's largest ransom?
Hoping for change in Africa's last one-party state
Las Vegas hotel sues shooting victims
Video
Business booming for giant cargo planes
Video
'I survived the bombing of the King David Hotel'
Elsewhere on the BBC
Football phrases
15 sayings from around the world
Full article Football phrases Why you can trust BBC News
BBC News Services
On your mobile
On your connected tv
Get news alerts
Contact BBC News
Source:
Google News India
|
Netizen 24 India