Eoin Morgan's flexibility sets up England for India decider

England v India 2018 Eoin Morgan's flexibility sets up England for India decider The captain's decision to trust his instincts at Lord's was key to the victory that will see the ODI series settled at Headingley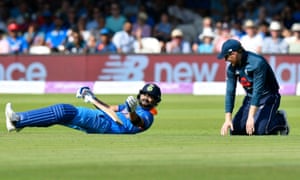 We are bombarded with statistics in the 21st century â€" figures that are way more intricate than a sombre "He's only averaging 26 this year", which was the case with Eoin Morgan before the one-day international at Lord's on Saturday. But how do you quantify the impact of a good captain? That remains one for the statisticians to ponder.
One could easily argue that Alex Hales, who is injured, is a superior ODI batsman to Morgan yet only a tiny minority would advocate that Hales should replace Morgan in the side. Morgan proved his worth at Lord's. For a start he hit a valuable 53 when Kuldeep Yadav was threatening more destruction and throughout the day he kept making excellent decisions. Everything clicked to the extent that India were all too easily neutered by what Morgan described as no more than "a par score" with MS Dhoni strangely emasculated at the end.
Moeen Ali thwarts Virat Kohli as shrewd England leave India in a spin Read more < p>Morgan's first decision may have been his best. Virat Kohli, we know, would have bowled first, partly because Morgan has happily acknowledged that his side "loves to chase" â€" except perhaps in May in Edinburgh. But England's captain showed the necessary flexibility at Lord's; like all good captains he was prepared to play the conditions rather than bow to the psychological preferences of his side.
Afterwards in a matter-of-fact manner Morgan explained what seemed to be an unusual decision to bat first. "It was home-ground knowledge really. If I was playing for Middlesex and I was captain or advising the captain it would have been to bat first. We thought it was hard on the top and soft underneath."
That analysis proved correct. England had the better batting conditions but they still had to combat Kuldeep, whose left-handed wristâ€'spinners have been a torment this summer. "The more we face him the easier he has become to pick but you still have to play him well. I thought Joe was quite significant in that with his rotation of the strike and his calm head. I thought we did our basics right. It was much better."
In the field Morgan juggled his bowlers deftly, trusting his instincts over any preconceived formula. This time he delayed the introduction of his spinners and both of them were excellent. They had to be patient as Kohli and Suresh Raina sought to rebuild the Indian innings but their patience was rewarded with vital wickets. Adil Rashid has seldom bowled more accurately or confidently and Moeen Ali was miserly.
This all sets up an appetising finale to this summer's international whiteâ€'ball cricket at Headingley on Tuesday. Morgan welcomes a winner takes all match with the additional pressure that brings. The game becomes more relevant than so may other matches in a long bilateral series and therefore more helpful as England look forward to next year's World Cup. Beating India would be a far greater encouragement than the defeat of a depleted Australia earlier in the summer. "They are a really strong side â€" as we saw in periods at Lord's and particularly at Trent Bridge," says Morgan. "So to beat them in a series would be quite significant â€" very significant."
Rohit Sharma and Kuldeep Yadav star as India thrash England in first ODI Read more
Some team news was confirmed on Sunday: Sam Curran and Dawid Malan have been released from the one-day squad to play for England Lions in their four-day match against India A in Worcester starting on Monday. Hampshire's James Vince replaces Malan.
Beyond the ODI series there are intriguing conundrums for the two camps, which relate to their spin bowling lineups for the forthcoming Test series. Kuldeep has caused considerable bewilderment to England's batsmen. Will that change India's view of their best bowling lineup with a red ball, bearing in mind that they have two most accomplished spinn ers in the Ravis, Ashwin and Jadeja, and that in Test cricket Kuldeep is unlikely to have the luxury of four men on the boundary?
By the same token, how much importance will England attach to the improved form of Moeen with the ball? His rhythm has returned and the chinks in his action that crept in during the winter have been eradicated. How relevant are white-ball performances when picking the Test team? The statisticians had better devise another formula. Or shall we just trust our instincts?
Topics
Eoin Morgan
England cricket team
India cricket team
Cricket
features
Share on Facebook
Share on Twitter
Share via Email
Share on LinkedIn
Share on Pinterest
Share on Google+
Share on WhatsApp
Share on Messenger
Source:
Google News India
|
Netizen 24 India