Ikea finally set to open first store in India â€" but holds the meatballs

India Ikea finally set to open first store in India â€" but holds the meatballs
The beef and pork dish is off the menu but huge outlet in Hyderabad will have famous Billy bookcases and Poang chairs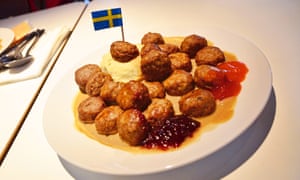 Ikea is set to open its first store and restaurant in India after years of trying but arguably its most famous item is off the menu â€" Swedish meatballs.

Ikea, the world's biggest fu rniture retailer, will next month cut the ribbon on a massive 37,000 square metre outlet in the southern city of Hyderabad, complete with a 1,000-seater cafeteria.
The explosive film lifting the lid on sex trafficking between India and LA Read more
The restaurant will be Ikea's largest and will cater to local tastes, with religious sensitivities in India dictating that beef and pork, staples of Swedish meatballs, will not be served.
"There will be chicken meatballs and vegetarian balls," Patrik Antoni, Ikea's deputy country manager for India, said.
"Fifty percent of the food will be Swedish inspired, salmon and shrimp dishes and so on. We'll also have quite a few Indian dishes like dal makhani, biryani, samosas," he added.
The Swedish multinational, which revolutionised household furnishings with its range of affordable ready-to-assemble products, is betting big on India as it seeks new revenues away from its key western marke ts.
Ikea plans to invest $1.5bn in Asia's third-largest economy as it seeks to lure Indians away from shopping at local, family-run shops.
Outlets in Mumbai, Bangalore and the capital New Delhi will follow Hyderabad, Antoni said. Ikea will then look at Pune, Chennai, Ahmedabad, Surat and Kolkata.
"We are very bullish and excited about the Indian market. Normally, we would test a market by opening one store but in India, we are going all out and expanding," said Antoni.
'Washing is a privilege': life on the frontline of India's water crisis Read more
The Hyderabad store will be comparable in size to an average Indian shopping mall. It will have 850 employees and is expected to attract several million visitors a year.
Alongside its popular Billy bookcases and Poang chairs, Ikea will also offer spice boxes and kitchen appliances to make traditional Indian staples such as idlis (rice cakes).
The home goods be hemoth first tried to enter India in 2006 but was foiled by strict foreign direct investment rules that required foreign companies to sign up with a local partner.

Seven years later the rules were relaxed to allow foreign businesses to own retail stores operating under a single brand, clearing the way for Ikea's entry into India.
Topics
Ikea
South and Central Asia
news
Share on Facebook
Share on Twitter
Share via Email
Share on LinkedIn
Share on Pinterest
Share on Google+
Share on WhatsApp
Share on Messenger
Source:
Google News India
|
Netizen 24 India