Karnataka rains LIVE updates: Met dept predicts more rain in coastal towns; Mangaluru city launches helpline centre


Karnataka rains LIVE updates: Three persons have lost their lives in floods triggered by incessant rainfall in Karnataka's Mangaluru and Udupi. The deceased include a school girl who was washed away in overflowing drain near Padubidri in Udupi. Rescue officials say that they have recovered a body of a lady (60) from the debris of compound wall in Mangaluru. One more woman lost her life after she was struck by lightning at her home in the wee hours on Wednesday in Karkala taluka of Udupi.
Mangaluru City Corporation launches 24x7 Monsoon Helpline Centre. Locals can contact officials on 0824-2220306 to register the complaints.
South west monsoon is likely to set into coastal Karnataka on Wednesday.Congresss MLA from Mangaluru UT Khader has attributed the flash floods to the failure of Mangaluru city corporati on. He said, "In many parts of the city, the storm water drains have been blocked due to the faulty construction and encroachment."
Chief Minister HD Kumaraswamy, in an early morning teleconference with the deputy commissioners of Dakshina Kannada and Udupi, has assured relief to the coastal areas on a war footing. He has said in a press release issued on Wednesday that the National Disaster Relief Force (NDRF) team has been rushed to Mangaluru and Udupi with equipments.
The India Meteorological Department in its forecast for the next three days has sent out a warning for coastal Karnataka, interior Karnataka and Goa till 1 of June.
Tropical cyclone Mekunu hit coastal parts of Karnataka on Tuesday, flooding Mangaluru and Udupi, reports said. Strong winds uprooted trees and blew light structures off their hinges in several towns and villages in coastal Karnataka. Earlier, the Met office had issued a warning regarding cyclone 'M ekunu' for Maharashtra-Goa coast. It had said that the cyclone will intensify into a cyclonic storm during next 24 hours and into a severe one in subsequent 24 hours.
Amid heavy downpour in parts of Karnataka, Prime Minister Narendra Modi spoke to officials and directed them to ensure all possible assistance in the affected areas. The heavy rain in coastal Karnataka was due to well-marked low pressure over the south-east Arabian Sea, off the coast of Karnataka and north Kerala, and also due to the onset of monsoon in Kerala, the weather office has said.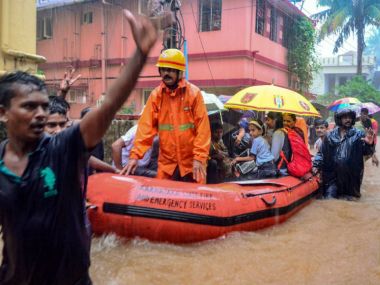 Rescue and relief operations are on in coastal Karnataka and parts of Mangalure. PTI
Heavy downpour lashed the coastal districts of Dakshina Kannada and Udupi for the third day today, inundating low-l ying areas and flooding roads, disrupting traffic and throwing life out of gear.
"I pray for the safety and wellbeing of all those affected by heavy rains in various parts of Karnataka. Have spoken to officials and asked them to ensure all possible assistance in the affected areas," Modi said in a tweet.
The Home Ministry said it has reviewed the situation in Mangaluru and is rushing additional teams of National Disaster Response Force (NDRF) to assist the local administration in handling rescue and relief operations.
Updated Date: May 30, 2018 11:48 AM
Source:
Google News