Karnataka govt formation updates: Kumaraswamy promises 'balance' between Congress, JD(S) agenda


Karnataka government formation latest updates: Karnataka Governor Vajubhai Vala is administering oath to HD Kumaraswamy as Chief Minister of Karnataka.
Congress leaders Sonia and Rahul Gandhi have arrived in Bengaluru to take part in the swearing-in ceremony of HD Kumaraswamy. The leaders of major Opposition parties are also due to attend the swearing-in ceremony to demonstrate their unity against the BJP.
Speaking to reporters in Bengaluru, Andhra Pradesh chief minister N Chandrababu Naidu and West Bengal chief minister Mamata Banerjee said they were in the state to strengthen the regional parties and support HD Kumaraswamy. "We want to express our solidarity. We are all very happy about the Congress-JD(S) coalition," Naidu said.
"We congratulate Karnataka brothers and sisters. In future we'll work toge ther to protect and promote national interest. All regional parties are at Kumaraswamy's swearing-in to support him," said Banerjee.
Disgruntled former Karnataka chief minister, BS Yeddyurappa said that greed and power was the basis of the Congress-JD(S) alliance. "Hunger, greed and power is the basis of JD(S)-Congress alliance. Such alliance will not even last three months," ANI quoted him as saying.
Announcing that the floor test will take place on Friday, instead of Thursday, JD(S) leader HD Kumaraswamy said there has been no change in his position on the farm loan waiver.
HD Kumaraswamy, chief minister designate, says he is "not the leader of one caste or community but will represent all of Karnataka". "If I have become chief minister today, it's because of all of you. It's not because of one community alone. I will bring in all the programmes we have promised. I want to assure people that there is no cha nge in my position or politics. But we must remember that it's a coalition government and not me alone. Whatever decisions I take will be taken in consultation with the alliance partners. But I will balance things such a way that it's in the best interests of people of Karnataka. I invite all citizens to come forward and contact us directly with whatever grievances you have. I am always with you all," he said, while addressing the media after visiting the Chamundeshwari temple.
Traffic congestion is expected on all roads near the Vidhan Soudha on Wednesday between 2.30 pm and 5.30 pm. Traffic jams can be expected at Cubbon Park, Kanakapura Road and Mysore Road as supporters from different parts of Karnataka are expected to attend HD Kumaraswamy's swearing-in ceremony.
According to News18, arrangements have been made for placing one lakh chairs in front of the Vidhan Soudha. The road between legislative assembly building and the Karnataka Hi gh Court will be cordoned off and chairs will be placed there. There is also a separate enclosure with 3,000 seats for VIPs.
Unfazed by the fall of its three-day government last week in Karnataka, a defiant BJP's state unit will protest across the state on Wednesday against the formation of the Janata Dal (Secular)-Congress coalition government, a party official said on Tuesday.
"As the Congress-JD(S) alliance hijacked the people's mandate and formed an unholy alliance to form a coalition government on Wednesday, we are observing the occasion as the 'Anti-People's Mandate Day' across the state," said BJP's spokesman S Shantaram in a statement in Bengaluru.
Several national leaders including United Progressive Alliance chairperson Sonia Gandhi, Congress president Rahul Gandhi, Bahujan Samaj Party chief Mayawati are expected to attend JD(S) leader HD Kumaraswamy's swearing-in ceremony in Bengaluru on Wednesday.
C hief ministers of non-BJP states and heads of regional parties such as N Chandrababu Naidu (Andhra Pradesh), Mamata Banerjee (West Bengal), Arvind Kejriwal (Delhi), Pinarayi Vijayan (Kerala), Samajwadi Party president Akhilesh Yadav and Kollywood superstar Kamal Haasan of Makkal Needhi Maiam party in Tamil Nadu will also be in attendance.
The 34-member Cabinet will have 22 ministers from the Congress and 12 from JD(S), Congress leader KC Venugopal said on Tuesday, adding they would be sworn in after the floor test slated for Thursday.
A JD(S)-Congress coalition government headed by HD Kumaraswamy will be sworn-in on Wednesday in Karnataka at a ceremony attended by a galaxy of Opposition leaders and chief ministers, a development that could plant a seed for a broad-based anti-BJP platform before the Lok Sabha polls next year.
Karnataka Congress president G Parameshwara will be sworn-in as the deputy chief minister, AICC general secretary in-charge of the state KC Venugopal said.
Congress's Ramesh Kumar, a former minister, will be the next Speaker, while the Deputy Speaker's post will go to the JD(S), Venugopal told PTI.
The Congress would have 22 ministers and JD(S) 12, he said, adding they would be sworn in after the floor test slated for Thursday.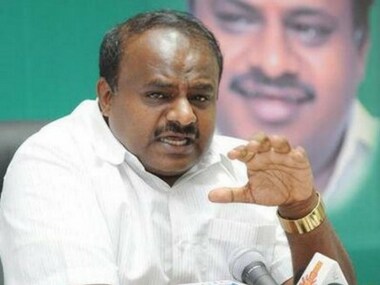 File image of HD Kumaraswamy. Twitter@hd_kumaraswamy
Kumaraswamy will be the second chief minister to take oath in Karnataka within a week, after BJP state president BS Yeddyurappa stepped down without facing the floor test on 19 May in the face of imminent defeat.
The JD(S)'s chief minister-designate said portfolio distribution will be discussed on Friday and a coordination committee will be formed to facilitate smooth functioning of the coalition.
Kumara swamy, the third son of JD(S) supremo and former prime minister HD Deve Gowda, will be administered the oath of office and secrecy by Governor Vajubhai Vala at 4.30 pm in front of Vidhana Soudha, seat of the government in Bengaluru.
A huge stage has been erected in front of the majestic stone building for the ceremony where a host of national and regional leaders are expected to be present to send a message across to the BJP over the shape of things to come in 2019.
Government officials and sources in the JD(S) said Congress president Rahul Gandhi, his mother and UPA chairperson Sonia Gandhi, West Bengal chief minister Mamata Banerjee, Chandrababu Naidu, Arvind Kejriwal and Pinarayi Vijayan, her counterparts in Andhra Pradesh, Delhi and Kerala, are among those likely to be present.
So would be CPM general secretary Sitaram Yechury, one of the most vocal votaries of an anti-BJP alliance, Tejashwi Yadav, the Leader of Opposition in the Bihar Assembly, and National Conference leader Farooq Abdullah.
BSP chief Mayawati and SP leader Akhilesh Yadav, who have formed an alliance in Uttar Pradesh, would also attend the ceremony.
DMK leader MK Stalin, who was also expected to be present in order to show the burgeoning Opposition consolidation against the BJP, has cancelled his Bengaluru visit and would instead head for Tuticorin in Tamil Nadu where nine people were killed in police firing on Tuesday.
It will be Kumaraswamy's second term in office. He had earlier headed the JD(S)-BJP coalition government for 20 months between February 2006 and October 2007.
Managing the contradictions in the coalition may not be a smooth sailing for the 58-year-old leader after the JD(S) and Congress fought a bitter electoral battle in the state, particularly the old Mysuru region.
Kumaraswamy himself conceded on Tuesday that running the coalition government for the next five years will be a "big challenge" for him.< /p>
The first task for him would be a smooth expansion of his Council of Ministers, as the Congress would want to have a big share in the ministerial pie as it has more than double the number of MLAs JD(S) has. The Congress has 78 lawmakers in the Lower House against 37 of the JD(S).
A section of Lingayat MLAs of the Congress wanted a person from their community to be the deputy chief minister as Kumaraswamy belongs to another politically influential caste Vokkaliga.
However, Rahul Gandhi approved the name of Dalit leader G Parameshwara for the post, Venugopal said.
DK Shivakumar, another Vokkaliga leader of the Congress, who emerged a key figure in keeping the party MLAs together before the trust vote, was also a contender for the deputy chief minister's chair but the party high command opted for Parameshwara.
The BJP, which is the single largest party with 104 MLAs in the 224-member Assembly whose effective strength is 221, would not allow Kumar aswamy to have a smooth running. The BJP has dubbed the Congress-JD(S) alliance as "unholy", and claimed the government will not complete its full term.
The saffron party has decided to boycott the oath-taking ceremony, and will observe "anti-popular mandate day" tomorrow to protest the formation of the coalition government.
Senior BJP leaders would hold a protest in front of the Mahatma Gandhi's statue here, while its workers in black attire will hold demonstrations in districts, state BJP general secretary CT Ravi told reporters.
With inputs from PTI
Updated Date: May 23, 2018 22:03 PM
Source:
Google News