Congress leader Ramesh Chennithala writes to Pranab Mukherjee asking him not to attend RSS meet


Thiruvananthapuram: Senior Congress leader Ramesh Chennithala on Wednesday sent a letter to former president Pranab Mukherjee requesting him to refrain from attending a RSS function at Nagpur on 7 June.
Mukherjee, who has been a Congress veteran, has been invited to be the chief guest at the valedictory function of Sangh Shiksha Varg â€" a training camp for Rashtriya Swayamsevak Sangh volunteers â€" at the RSS headquarters.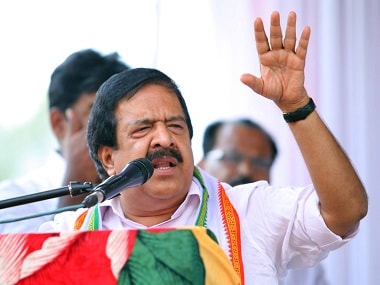 File image of Ramesh Chennithala. Facebook/Ramesh Chennithala
The leader's request comes amid a raging debate over Mukherjee accepting the invite from the RSS to attend the event.
In the letter, Chennithala, also a leader of the opposition in the state Assembly, said Mukherjee's decision to attend the function had come as a "rude shock" to secular minds of the country.
He alleged that RSS has been trying to divide the country on religious lines and to run the incumbent government by remote control.
"Being one of the tallest leaders of the great Indian National Congress, which has been responsible for preserving the secular fabric of this country, your decision has invited unparalleled disgruntlement among the rank and file of the Congress Party," the letter said.
"As a person who has served as the first citizen of our country and the greatest ambassador of secularism, I request you to reconsider your decision to attend the RSS meet on 7 June,2018," it said.
Describing RSS as a 'communal outfit', the Congress leader said its vision of creating "Hindu Rashtra" comprising only one section of th e population is in sharp contrast with the Congress ideology of secularism and democracy.
He alleged that the RSS had been using "unholy means" to rewrite the history of the great freedom movement and "demean" the contributions made by leaders of the Indian National Congress.
"They have also weakened all democratic institutions in our country by instigating the venom of communalism," the leader charged.
Updated Date: May 30, 2018 21:45 PM
Source:
Google News