India vs Australia 2nd T20, Live Cricket Score: Jason Behrendorff Helps Visitors Bowl Out Hosts For 118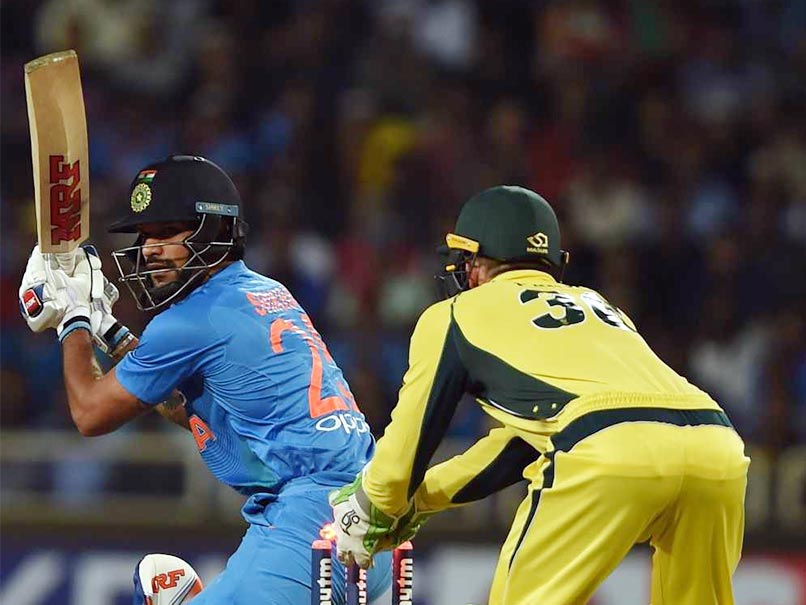 Live Cricket Score: India vs Australia 2nd T20I in Guwahati. © AFP
India got off to a horrid start after losing Rohit Sharma and captain Virat Kohli in the first over of the match as Jason Behrendorff went through the Indian top-order. The left-arm seamer ended with figures of 4 for 21 and was instrumental in bowling out India for 118 in the second T20I played in Guwahati. For the hosts, Kedhar Jadhav (27) looked good for a brief period and Hardik Pandya (25) towards the end of the innings helped India cross the 100-run mark. India will have to bowl out of their skin to defend this total with the visitors looking good to level the series after losing the first T20I in Ranchi. (LIVE SCORECARD)
Catch highlights of the 2nd T20 between India and Australia straight from Guwahati.
21:10 IST: Wicket! In the air and Warner finds the fielder at covers. Bumrah comes back well after conceding a boundary. David Warner falls for 2, Australia 11/1 in 1.3 overs
21:08 IST: FOUR! Short ball from Bumrah and Finch puts it away for a boundary.
21:07 IST: In the air and over square leg. The ball finds the no man land. Australia 6/0 after the first over
21:05 IST: Some sawdust being applied at the popping crease - near the bowler's landing area
21:00 IST: Good length delivery from Bhuvneshwar. Finch drives the ball towards covers for three runs.
20:57 IST: Hello and welcome to the chase. Can India restrict Australia under 118?
20:43 IST: Wicket: Kuldeep goes for the big one, got the leading edge and it skies up in the air. Paine takes a simple catch. India have been bowled out for 118 in 20 overs.
20:41 IST: Wicket! Kuldeep Yadav tries to work it through the on side, hits his thigh pads and the pair sets off for a quick single. Tim Paine takes his gloves off in a flash and has a go at th e stumps. Bumrah is well short. Run Out!
20:39 IST: India 114 for 8 in 19 overs.
20:37 IST: Four! Bumrah goes for the big almighty heave., gets the outside edge and finds the gap between the slip and the wicket-keeper.
20:34 IST: India 104 for 8 in 18 overs.
20:32 IST: Jasprit Bumrah is the new man in for India.
20:31 IST: Wicket! Pandya goes for the big one. Doesn't get hold of it and a simple catch at long off. India lose their eighth wicket. Stoinis picks up his first of the night.
20:26 IST: So the 100 comes up for India in the 17th over. Three overs to go after this.
20:23 IST: Six! Tye bowls it short and Pandya has timed it beautifully. That's gone all the way.
20:22 IST: 16 overs gone. India 90 for 7.
20:17 IST: Four! Kuldeep gets it away for a boundary. Not the best shot but India will take it.
20:14 IST: Runs coming in singles at the moment for India.
20:11 IST: India 77 for 7 in 14 overs.
20:07 IST: Kuldeep Yadav can bat and India need Kuldeep to stay there till the end with Hardik Pandya.
20:05 IST: Wicket! The Indian batting is falling apart here. Bhuvneshwar Kumar falls prey to a short ball as he ramps this one to third man. India lose their seventh wicket. Coulter-Nile picks up his first wicket.
19:59 IST: India 69 for 6 in 12 overs.
19:57 IST: Wicket: Another great delivery by Zampa. Bowls the wrong one and Jadhav went for the big one. Failed to connect and it went right through his defence. India 67 for 6 in 11.1 overs.
19:56 IST: India 67 for 5 in 11 overs.
19:50 IST: Wicket: A game of cat and mouse and Zampa wins this time. That was beautifully bowled. Dhoni comes down the track but fails to reach the pitch of the ball. Got beaten in flight and Paine behind the stumps takes off the bails in a flash. India lose their fifth wicket.
19:48 IST: Four! Dhoni comes down the track to Zampa, makes it into a full toss and flicked it over for a boundary.
19:46 IST: Seven of the Stoinis over. India 54 for 4 in 9 overs.
19:43 IST: Marcus Stoinis comes on and drifts down the leg-side and Jadhav won't miss out on such an invitation. Four runs!
19:41 IST: 4 coming of that Zampa over. India 47 for 4 in 8 overs.
19:40 IST: Adam Zampa comes into the attack.
19:38 IST: Behrendorff finishes off his spell. 4 for 21 for him. India 43 for 4 in 7 overs.
19:35 IST: So Warner going for the kill. GivesBehrendorff four overs on a trot.
19:33 IST: 7 coming off that Tye over. India 38 for 4 in 6 overs.
19:31 IST: Four! Too much room for Jadhav there to free his arms. Andrew Tye the culprit.
19:30 IST: MS Dhoni is the new man in and gets off the mark straight away.
19:29 IST: Four! Short and Jadhav cuts it over point. Great shot. India 31 for 4 in 5 overs.
19:27 IST: Wicket: Another one bites the dust. Dhawan comes down the wicket, tries to take Behrendorff off and a brilliant catch by David Warner at mid-off. India lose their fourth wicket.
19:24 IST: Six! Short but this time Jadhav pulls it away for a maximum. Quickly into position, got inside the line of the ball and it carried all the way. 11 coming from the Coulter-Nile over. India 27 for 3 after 4 over s.
19:22 IST: Short again from Coulter-Nile and hits Dhawan on the helmet. The ball flies off and Finch does brilliantly to save the boundary. 3 leg-byes. The Australians are charged up here.
19:20 IST: Short from Coulter-Nile and Jadhav plays it uppishly through point. Maxwell flew to his right but just out of his reach.
19:18 IST: Four coming from the over. India 16 for 3 in 3 overs.
19:14 IST: Kedar Jadhav joins Shikhar Dhawan. India are in trouble here.
19:13 IST: Wicket! Behrendorff is on fire here. Pandey takes the long walk back. India 16 for 3.
19:11 IST: Four! Manish Pandey just steers it down the third man region and picks up a boundary.
19:07 IST: Nathan Coulter-Nile to share the new ball with Behrendorff. Four coming of the second over.
19:06 IST: En d of the first over. India 8 for 2.
19: 05 IST: Wicket: What a over this is turning out to be. Virat Kohli departs without troubling the scorers. This has been an action packed first over. Two boundaries and two wickets. Behrendorff has done the job for Australia. If Ravi Shastri would have been in the commentary box he would have certainly said, 'Just what the doctor ordered for Australia.'
19:03 IST: Wicket: That was beautifully bowled byBehrendorff. The ball came back in and Rohit was caught on the crease. That was right in front and the umpire raises the finger.
19:02 IST: Four! Straight past the bowler. Not completely coming from the middle of the bat. The bat turning on Rohit's hand but still has enough to go to the boundary.
19:00 IST: Four! A juicy full toss to start things off and Rohit doesn't miss out on those. So India are away with a boundary.
19:00 IST: So we are all in readiness for the first ball. Rohit to face the first ball. Jason Behrendorff to start the proceedings for Australia.
18:55 IST: Both the Indian openers are out there in the middle. Shikhar Dhawan and Rohit Sharma would look to take India off to a great start.
18:50 IST: With most of the Australians playing in the Indian Premier League, the excuse of playing in alien conditions just doesn't work anymore. The Aussies need to pull up their socks and show some character against an Indian side that will pounce onto any weakness that is on offer.
18:48 IST: The Indian spinners once again came to the party in the last T20I played in Ranchi and the Aussies need to find a way to tackle the spin duo of Chahal and Kuldeep.
18:46 IST: Australia need to bat well if they are to entertain any hopes of winning the match. T hey have looked like a side below par in this tour and with Steve Smith out of the series with a shoulder injury, the rest of the batting needs to stand up and deliver.
18:44 IST: India would look to carry on their winning momentum while Australia would do all that is possible to bounce back and level the 3-match T20I series.
18:42 IST: India (Playing XI): Virat Kohli(c), Rohit Sharma, Shikhar Dhawan, Manish Pandey, MS Dhoni(w), Kedar Jadhav, Hardik Pandya, Bhuvneshwar Kumar, Kuldeep Yadav, Yuzvendra Chahal, Jasprit Bumrah
Australia (Playing XI): David Warner(c), Aaron Finch, Glenn Maxwell, Travis Head, Moises Henriques, Marcus Stoinis, Tim Paine(w), Nathan Coulter-Nile, Andrew Tye, Adam Zampa, Jason Behrendorff
18:40 IST: "The pitch looks good to play on, the only thing was the dew factor. We would have bowled first as well. Now we need to make sure we put up good runs on the board. We need to keep the winning momentum going. It's very difficult to maintain that momentum, very easy to lose it. We are very hungry to keep performing every game. We don't want to be complacent. The stadium is beautiful. It's a packed house. We could barely get into the ground. There were so many people who were so excited. We will try and entertain them as much as possible," Kohli said during the toss.
18:38 IST: India have not done any changes and have gone with the same playing eleven while Marcus Stoinis comes in for Daniel Christian for Australia.
18:34 IST: It is a beautiful stadium here in Guwahati and hopefully it will be a gripping contest.
18:30 IST: David Warner has won the toss and has elected to bowl first.
18:28 IST: The pitch looks to be on the slower side but there should be some help for the bowlers. It will be a interesting c ontest reckons Sunil Gavaskar in his pitch report.
18:25 IST: Hello and welcome to the 2nd T20I between India and Australia, straight from Guwahati.
The visitors will have to play out of their skins to arrest the slide and level the series ahead of the last T20I in Hyderabad on October 13. For that to happen, Australia will have to unravel the mystery of India's latest wrist spin duo of Kuldeep Yadav and Yuzvendra Chahal who have shared 16 wickets between them in four ODIs and one T20I.
Topics :
India Australia Virat Kohli Mahendra Singh Dhoni David Andrew Warner Glenn James Maxwell Yuzvendra Singh Chahal Kuldeep Yadav India vs Australia 2017-18 Cricket Live Score Live Cricket Score Live Blogs Related Articles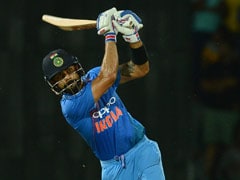 India vs Australia 1st T20, Highlights: India Beat Australia By 9 Wickets In Rain-Curtailed Match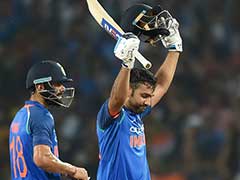 India vs Australia Highlights: India Crush Australia By 7 Wickets To Win Series 4-1, Regain No.1 Ranking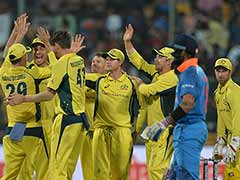 India vs Australia, Highlights, 4th ODI: Australia End India's 9-Match Winning Streak, Win By 21 RunsSource:
Google News